Atten-HUT!
Let's take aim and shoot some Nazi's with a full clip of thoughts about
Inglourious Basterds
http://www.imdb.com/title/tt0361748/
shall we?
- What an amazing month. Cameron reveals the dazzling brilliance of
AVATAR
and now Tarantino finally unleashes his long-awaited, grand ol' war movie. My 2 favourite directors have definitely spent their time wisely; for while we may have been checking our collective timepieces all along, these two master craftsmen have shown that the waiting period was more than worth our while.
Tarantino spoke often over the years of how he was still working on his "
guys on a mission
" war script, and to finally see the fruits of that labour up on the screen at long last was a wonderful sight to behold.
Is it exactly the film I expected? No it is not.
But I LOVE the film that it is, and it's that sort of unexpected surprise that adds to the overall charm. I embrace this movie with both arms and hug it firmly to my chest like an old friend who smells of firewood, baked goods and stories untold.
Wonderful.
- Yes, the film feels VERY different from the posters and marketing
Yes, it feels like you've been served a different film than the one the trailer alludes to.
But why is that a negative?
This situation is only cause for drama and fist-shaking outrage if the film delivered was poor.
That is most definitely NOT the case with
Basterds
.
This film is fantastic.
Some may cry foul that the whole "
guys on a mission
" vibe is not really present, but I do not feel the film suffers because of this.
This was conceived many moons ago and as a writer myself, I can attest to the fact that (
unless you do the unthinkable and write your entire final draft in one sitting in a single afternoon
) screenplays have a habit of evolving and maturing over time. This tale may have begun in one way...but it seems to have transformed into something quite different as the years went on.
And that something different is a most wonderful organism, indeed.
Heck, I hope
Basterds
does super-business and allows Tarantino the opportunity to make the companion piece to this film involving a group of black troops, that he's has reportedly spoken of. Perhaps that will tell that particular chapter of this overall journey.
- The opening farmhouse scene.
Wow.
No 1st time screenwriter would ever be allowed the freedom to get away with it. Studios would be like, "
Lengthy dialogue? Two men sitting in a room? Nonsense! Open the film with some tits or an explosion. Better yet; an explosion of tits!"
Now, I would be more than welcoming for a film that involved such jug-based pyrotechnics, but alas, such raunchy gimmicks are not necessary here.
The whole
'slap the audience across the face in the first 2 pages
' convention is a screenwriting rule that I've always thought requires at least two THICK coats of grey paint. Things are not always that black and white, people.
...Well, not in GOOD films, at least.
You need some room in which to wiggle and be vague. Allow the audience a chance to get comfortable in their chair and be embraced by the narrative...before unleashing your first narrative punch to the groin.
I'm just very thankful that Tarantino has put in the hours and as a result, has reached a point where he is allowed the creative freedom to open a film in such a way...without some studio clown commanding that he change the film to better suit the intellectually-crippled goons whose attention spans are vastly dwindling with every repeat viewing of Transformers 2.
- Dialogue is deliciously thick and layered. Adding to that is the dynamic element of transitioning from language to language at certain moments to properly suit the scene and contribute to the tension and so forth.
One of the many reasons why I love Tarantino's work is his knack for dialogue. The man has a solid ear for speech flow and knows when to throw in a rise, a fall, a pothole or a sudden-turn along the verbal road to keep the journey interesting.
That's mainly why I am not a big fan of
Death Proof
.
http://www.imdb.com/title/tt1028528/
I do not dislike the film, but I just felt that the dialogue didn't snap-crackle and pop off the screen and into my memory vault of
'Quotable Tarantino Lines'
, y'know?
Perhaps, I need to go for round 2 with it.
After all, I was not in awe of
Jackie Brown
http://www.imdb.com/title/tt1028528/
upon first viewing and yet, after repeated viewings over time, it has grown to become one of my favourite of Quentin's films and possibly his most underrated.
But getting back to the matter of dialogue; I can gladly say that the speech fired around during
Basterds
is top-shelf...and Tarantino has also now managed to undertake those interesting verbal journeys I spoke of, in different languages.
I'm a great fan of the English language and many others, particularly French, and I must say that certain moments during this film had me shaking my head, so impressed was I.
My
'Quotable Line Alarm'
also went off with a satisfying ring numerous times and I look forward to trying to emulate Hans Landa's delivery of gems like "
Could I have another glass of your delicious milk?
" during dinner parties to unsettle other guests.
Superb.
- Christoph Waltz as Hans Landa is hypnotic. I mentioned before how I was very impressed by certain moments regarding language, dialogue and so forth? Well, Christoph Waltz is generally centre stage during said moments.
The guy is simply mesmerising.
He kind of feels like a slightly-unbalanced German relative of Tim Roth. That's a compliment.
This gentleman effortlessly jumps between German, French, English and Italian and it looks as natural as breathing. He also manages to convey this serpentine sense of seductive malevolence and smoothly transitions from a calm, open and friendly demeanor into a duty-driven predator who enjoys toying with his prey.
You really must see for yourself. Waltz is golden, yo.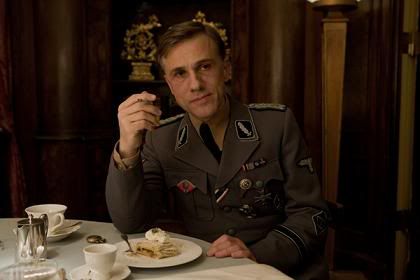 (
Makes dairy products sound sinister
)
- The bar scene involving the undercover allies versus the drunk Nazis was amazing and probably one of my favourite scenes...amongst many others.
Michael Fassbender had a badass British, suave manner going and his face-off against the very impressive August Diehl as the SS officer (
with frighteningly good hearing
) provides a wonderfully tense atmosphere that is tinged with doomed humour which reminded me of Tarantino's similarly brilliant scene he wrote in
True Romance
http://www.imdb.com/title/tt0108399/
between Dennis Hopper and Christopher Walken.
I'll say no more, from fear of spoilers but trust me; it's excellent.
- Gedeon Burkhard plays a character named Wilhelm Wicki. He is not onscreen for very long and he does not say much...but I instantly want to see this guy in more movies. He's got great screen presence coupled with one of the Best. Voices. Ever.
More roles for this gent, please.
- Hitler kind of looked like a creepy Mandy Patinkin. Weird.
- The film is filled with high-quality characters that are rich in personality...and I kind of felt like I was being hurried past them like when you're on one of those boat rides at Disneyland.
It all felt rather bittersweet; for I do not consider this a fault but rather a strength. I loved these characters so much that I was like, "
Please Quentin, let me stay and hang with these guys longer
."
So on that note, I'll just add that I'd like (
in future/side films, maybe?
) :
1. More Melanie Laurent (
This gal was impressive as Shosanna and one classy dame
.)
2. More Donnie Donowitz (
Eli Roth is badass, yo
)
3. More Hugo Stiglitz (
I cannot believe that I haven't been watching more Til Schweiger films. This guy is 'angry-action-hard man' dynamite. I'm a fan now.
)
4. More Aldo Raine (
Pitt is excellent, but as I've said; I wanted to spend more time with him.
)
5. More of the Basterds in general. (
There's easily another film's-worth of juice you could wring out of these cats
.)
...Oh, and guns triggered by the impact of a punch are awesome.
Excellent viewing, y'all.
At ease.